Documentation
Accessories
Technical specifications
Request info
The DURAN heat pump units are particularly suitable for applications using radiant panel heating systems or low temperature applications such as suitably dimensioned fan-coil, thermal ventilation and AHUs for delivery temperatures of 50°C. All versions are fitted with noiseless EC axial fans and with Twin Rotary inverter compressors that allow complete power management of each individual component. In fact, the compressor, fan and circulators are continuously regulated by a programmed control unit with an internally developed control logic. It has been designed to be intuitive immediately usable; this allows the unit to be inserted into a large number of system configurations.
The 4-pipe units can control a high and low temperature circuit simultaneously.
The speed of the compressor, fan and circulators is continuously regulated by the control unit.
The DURAN units are characterised by high efficiency and the integrated management of the circulator that allows high temperature water to be produced via a heat exchanger specific for DHW production.
On the system side heat exchanger the unit is able to produce hot or cold water to meet the building's seasonal heating and cooling requirements.
On the heat exchanger for the production of domestic hot water, the unit produces high temperature water to send to an external storage tank, which has been chosen and sized according to the requirements of the system.
Seasonal modes
The unit operates in a different way according to the season:
The system switches between the various operating modes (within a season) automatically by reading the temperature probes and the programmed set points. Switching times and logics are designed to ensure maximum system efficiency and reliability.
This configuration must be associated with a suitably sized boiler in which to store the high temperature water. The upper part of the boiler must be fitted with a thermowell in which to insert the hot water probe, through which the unit controller monitors whether hot water has to be produced.
Summer operation
There are three summer operating modes:
Chiller mode
The unit produces only chilled water for the cooling system.
Chiller mode with the simultaneous production of domestic hot water
The unit produces chilled water for the cooling system and domestic hot water at the same time. Full power is recovered for the production of domestic hot water.
Heat pump mode for the production of domestic hot water
If there is no cold load, and on request by the hot water probe, the unit heats the water in the water storage tank using the finned pack coil as an evaporator. The use of warm outside air as a heat source guarantees extremely high COP levels.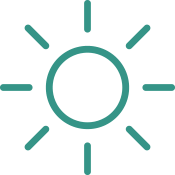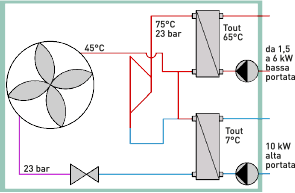 Winter operation
There are three winter operating modes:
Heat pump mode for heating
The unit produces hot water at the system side heat exchanger for heating.
Heat pump mode for domestic hot water
High temperature hot water is produced at the heat exchanger connected to the domestic hot water storage tank.
Heat pump mode with the simultaneous production of domestic hot water
DHW is produced at the same time as hot water for the heating system by desuperheating the gas R410a while maintaining a high COP.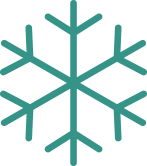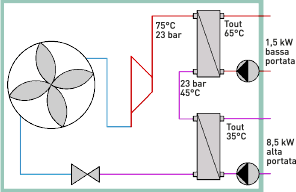 Automatic Seasonal Adjustment
The system switches automatically between the various operating modes according to a priority logic for the production of domestic hot water and, when there is loading at the same time, recovering condensation energy for the production of hot water. .
Technical specifications
Split air-water heat pump: the outdoor unit is equipped with an EC axial fan and BLDC Twin Rotary Inverter compressor, and features a cutting-edge design and high COP.
The heat source is the outside air down to a minimum of - 20°C. Low noise is guaranteed by an intelligent control system that regulates the speed of the compressor and fan according to actual requirements. In addition, the use of anti-vibration mountings for the compressor and multi-layer noise insulation on the casing mean that noise is reduced to a minimum.
Cooling circuit
The refrigerant gas used is R410a. Cooling circuit with very high efficiency twin rotary inverter compressor. Pressure transducers and safety pressure switch. Stainless steel plate desuperheating exchanger and plate heat exchanger for evaporation / condensation. Copper-aluminium finned pack evaporator with special hydrophilic treated finning.
Dual defrost system by way of hot gas injection and/or reverse cycle.
Heat exchangers
The source side heat exchangers are made of copper pipes and aluminium fins coated with hydrophilic paint that encourages water run-off. The user side braze-welded stainless steel plate exchanger allows the amount of refrigerant gas to be reduced to the minimum and maximise the efficiency due to the large heat exchange surface.
Hydraulic circuit
Water-heating circuit consisting of a modulating electronic circulator, differential pressure switch, 40-litre AISI 304 stainless steel micro-storage tank and a safety valve.
Domestic hot water circuit consisting of a 180-litre AISI 304 stainless steel tank approved for use with food, upper and lower storage tank probes, optional electric heating element, additional cathodic protection anode.
Domestic hot water production via a hybrid system for desuperheating hot gas and total recovery with compressor modulation. Selectable priority domestic hot water production logics.
Fan
The brushless EC axial fan has been designed to reduce noise to a minimum and to maximise efficiency. The speed of rotation is continuously regulated by the control unit.
Control and protection
Carel electronic control with integrated inverter driver control combined with the compressor, pump and fan modulation. Climate logic management. Standard ModBUS communication protocol.
The unit is equipped with a series of alarms designed to protect it from faults. These are managed entirely by the control unit that makes them available and accessible. It is also possible to access the controller via the control unit if you need to make any adjustments.
Remote controller (optional)
The control unit consists of CAREL hardware and can be combined with a highly intuitive controller with which all the operating parameters, set points and usage settings can be controlled. The controller allows direct connection to the heating system with or without a storage tank, or more commonly, by connecting the latter to the heating system at two or four points. The storage tank is charged at a set point for DHW and with a heating or cooling curve for heating / cooling circuit.
Testing
All units are fully assembled and wired. They are inspected to high standards, undergo leak and vacuum cycle tests, and are filled with an eco-friendly refrigerant. They undergo a complete functional test before being delivered. All units comply with European Directives and have a CE marking and relative certificate of conformity.
Auxiliary controls
Other auxiliary controls are possible with HP1 - GOLD system expansion, an expansion module that connects as a BUS accessory to the existing control unit and allows important and innovative functions to be added that are useful for more complex systems:
DPAC: a 0-10V input that regulates the power used by the heat pump according to the instantaneous availability of the solar energy system. This is an extremely innovative logic developed by Thermics Energie: when the heat pump is set to "ECO" mode, it operates according to the availability of energy and its wide modulation range means that it will avoid drawing electricity from other sources.
MIX1: available for the management of a general system mixed unit with 0-10V signal.
INFO SEASON: an outlet that alerts the rest of the season change system.
HEAT TRANSF: a setting that specifies the logics used for heat transfer through a plate heat exchanger or a secondary transfer boiler.
HYBRID: relay activation of heating integration using a second source both on the DHW side and on the heating side.
Multiple units can also be controlled with HP2 – expansion module for cascade control. To extend the life of the heat pumps, the controller can intelligently control the rotation of the units in the case of partial load.
Remote Brain
To control all heat pump activities remotely.
Remote Brain is a simple and inexpensive system for monitoring residential installations that allows you to switch on Thermics Energie heat pumps, control their respective temperatures, monitor their operation and to provide the heating comfort requirements of the home directly from any device, both inside and outside the home. This innovative system means that all the main terminal units for HVAC and the production of domestic hot water are constantly monitored, to enable the heat pump to be used in the most efficient way and to obtain maximum savings in terms of energy and cost.
The information is transmitted locally using Wireless technology to Tablets, Smartphones and PCs directly from the ADSL router, which uploads it to a data collection CLOUD. This means that the data is always up to date and can be used at any time and on any device, wherever you are. The system also allows you to report heat pump malfunctions, meaning that trained technicians can take the appropriate action quickly. They will immediately know the reason for the malfunction and be able to restore correct operation of the heat pump rapidly.
Remote Brain has an annual charge for maintaining the service and its functions (see t-Service).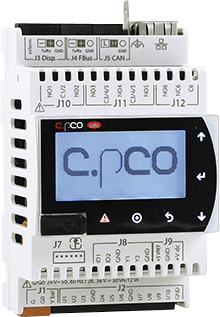 tSERVICE
is the service dedicated to service centres. tService makes carrying out maintenance faster and more effective with a ready-to-use remote control solution specifically designed for service centres.
Functions available with tService:
Reading and writing variables in real time
Data logging with frequencies up to 5 seconds
Alarm management with e-mail notification
Reports and graphs, using up to 300 variables
Programmable SW update checks
With tService, you can take out a 1-year subscription, or longer if you wish, in order monitor the heat pump at all times.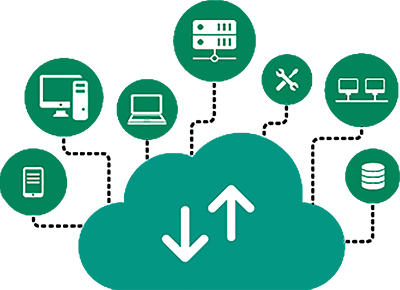 Warranty extension
Nowadays product quality and energy saving are the discriminating factors of choice when purchasing a heat pump. To make your investment last longer and obtain maximum reliability, it is advisable to check your heat pump, such as the coupon for cars. In this way, your system will always remain under control and will allow you to save on bills. To take advantage of the warranty extension up to a maximum of 5 years (2 by default + 3 service years) there is an activation fee and a subscription, within 1 month from the first start-up, of a scheduled maintenance contract with the service THERMICS ENERGIE SRL authorized technical assistance.
(See dedicated document for warranty extension terms).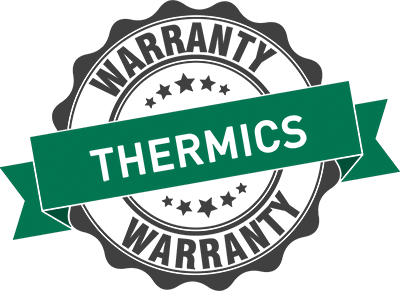 Technical specifications
Energy efficiency class(*)
A++
Energy efficiency class(**)
A+
Cooling capacity 100%
kW
15.64
Cooling capacity 66%
kW
9.87
Cooling capacity 33%
kW
4.83
Compressor power input 100%
kW
2.58
Total power input 100%
kW
2.84
Cooling capacity 100%
kW
10.90
Cooling capacity 66%
kW
6.85
Cooling capacity 33%
kW
3.32
Compressor power input 100%
kW
2.81
Total power input 100%
kW
3.07
Heat output 100%
kW
12.32
Compressor power input 100%
kW
2.51
Total power input 100%
kW
2.77
Heat output 100%
kW
11.91
Compressor power input 100%
kW
3.07
Total power input 100%
kW
3.33
Type
Twin Rotary DC Inverter
Hydraulic circuit Indoor unit
Rated heating flow rate (A7/W35)
m³/h
2.2
Useful head (A7/W35)
mca
4.8
Pump power input (A7/W35)
kW
0.06
Expansion vessel on system side
l
5
Expansion vessel on DHW side
l
12
Safety valve on DHW side
bar
6
Anti-legionella heating element
kW
1,2
Gas connections
inches
3/8'' 5/8'' (BT) 3/8'' 3/8'' (AT)
Water connections
inches
1" (BT) 1''(AT)
Sound pressure at 10 m
dB(A)
40
Outdoor unit dimensions(L×H×D)
mm
1128 x 1259 x 508
Outdoor unit weight
kg
120
Indoor unit dimensions (L×H×D)
mm
606 x 2003 x 558
Duran DHW UI 12 4T 230V - RAL9010
7T03124M20104
Duran DHW UE 12 4T 400V - RAL7016
7T02124T10103
* Energy efficiency class for low temperature (35°C) heating applications under "average" climatic conditions
** Energy efficiency class for medium temperature (55°C) heating applications under "average" climatic conditions
Accessories
Secondary circulator with insulation
6TGF90010.01
REMOTE BRAIN T-Service monitoring for 5 years
8TCR90130
3/4"M anti-scald thermostatic mixing valve
8TKR00033
Activation of REMOTE BRAIN monitoring system
8TSI01200.01
Other products in Heat Pumps
Write us if you would like more information