Technical specifications
Technical Documentation
Energy documentation
Request info
Innovative Air – Water heat pump suitable for indoor installation. The unit is fitted with a high performance EC centrifugal fan that guarantees low noise. It has been designed to be ducted towards the outside and is fitted with a Twin Rotary inverter compressor. The units have been designed for new buildings and renovations where it is important not to modify the aesthetic appearance of buildings (historic buildings, architectural constraints etc.) and in buildings in which the indoor space is limited.
Cooling circuit
The cooling circuit is made using components manufactured by leading international companies and according to UNI EN 13134 regarding braze-welding processes The refrigerant gas used is R410A. The cooling circuit includes: 4-way cycle reverse valve, electronic expansion valve, liquid separator, liquid receiver, inspection valves for inspection and maintenance, safety device according to PED regulations (high pressure pressure switch), pressure transducers to accurately adjust the evaporation and condensation pressure and filters to prevent the thermal expansion valve becoming clogged.
Compressors
The DC inverter compressors have been specially designed to operate with R410A. They are fitted with a thermal cut-out and are installed on rubber vibration dampers. The compressors are installed in a compartment that is separate from the air flow in order to reduce noise.
Air side heat exchanger
The new fin design increases the heat exchange area, decreases air resistance, reduces the amount of energy used and increases performance. The fins covered with a hydrophilic film and the seamless copper pipes optimise the heat exchange efficiency.
Fans
The fans are centrifugal (Ziehl EC Blue). They are all statically and dynamically balanced in compliance with EN 60335-2-80 (household and similar electrical appliances safety). They are characterised by having a modulating air flow 300 - 900 m3/h and guarantee a useful head for 10 meters of DN250 pipe. The fans are installed on rubber vibration dampers to reduce noise. All the electric motors are brushless. The motors are direct coupled and have an integrated thermal cut-out. The motors all have and IP 44 rating.
User side heat exchangers
The user side heat exchanger is of the braze-welded plate type and are made from AISI 316 stainless steel and factory insulated using closed cell materials.
Duct performance
Drops inside exchanger = 50 Pa
Hydraulic performance
Dimensions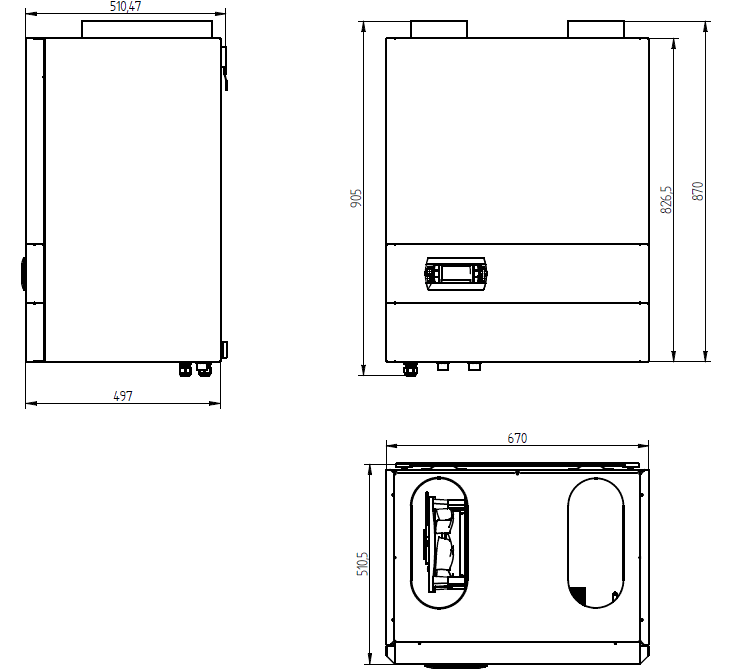 Technical specifications
Starting current
A
Inverter
Rated load current
A
Inverter
Air flow rate
m³/h
300÷900
Rated heating flow rate at ΔT 5°C
m³/h
0.7
Minimum heating flow rate at ΔT 7°C
m³/h
0.5
Water connections
inches
G ¾"
Sound pressure at 5 m
dB(A)
42
Unit dimensions (L×H×D)
mm
655 x 753 x 502
Other products in Heat Pumps
Write us if you would like more information